SEOCLICK helps in Blog Bookmarking that Brings You Fortune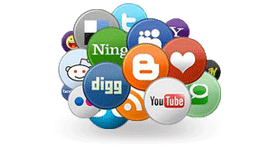 With the meticulous planning and research done the SEOCLICK team offers you provision for blog bookmarking service that will bring the backlinks and traffic to your sites. Only after thorough researches done, will decide which sites should be bookmarked and because of strict registration rules for sure no spam links will be generated from your sites. In the SEO point of view the social bookmarking is one important tool that any expert SEO will agree and thus we provide provision for blog bookmarking, which is one main aspect of promoting products.
We do Manual Blog Bookmarking and Help You Save Time and Gain Profit
Linking sites within forums, blogs, social networking area, content centric sites and so on involves in the bookmarking practice and with the effective blog bookmarking done it is a strong bridge made to gain the back links and visitors' traffic to the site and thereby increase the sales and revenue income. But considering submission or bookmarking to a relevant number of sites will be time consuming, effort demanding task, so leave the duty of blog bookmarking to us and what you have to do is just see and analyze the overflow of visitors to your site and make it a regular activity of looking at your sales graph raising to the unlimited span of profit.
We Help to determine Wise and Worse
Many bookmarking sites that can be listed has its own merits and demerits, so it will be a tougher task to determine which one should be selected for bookmarking your blog that carry the data about the product and meant for product promotion. To stay with the right site and bookmark your content on the site which is apt, thorough research and planning is needed, which may consume your valuable time, so we are here, to take the task of blog bookmarking thus provide you the time to concentrate more on other aspects of business development. We guarantee that your sites and products will be exposed to the right platform and it will for sure increase traffic to your site. We aim at complete exposure of your site and product thorough correct submission done.
What We Offer is Submission that Offers Many Gains for You
Social bookmarking of blogs and other data is must as they are much search engine friendly and within days of submission on such sites, you will be reverted with inbound links and traffic to the sites. So to get the link building and traffic strongly concentrated get the blog bookmarking done with the SEOCLICK service.
Manual submission will bring all the exposure elements in correct blend
One way links will be provided
Service that will meet expectation
24x7 support facility
Submission report provided
Constant contact between clients and team to analyze effect of blog bookmarking done